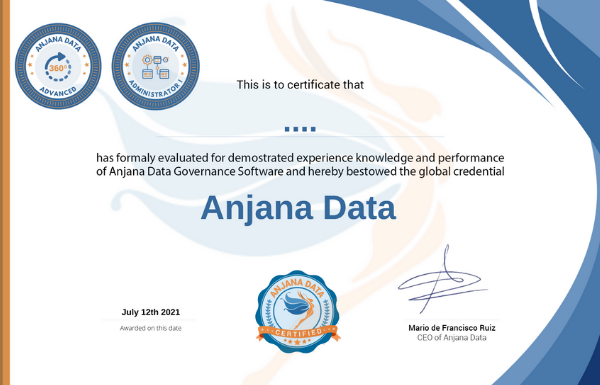 Anjana Data launches two new levels of its Official and Public Certification, with the aim of continuing to offer training on the most innovative and disruptive solution for Data Governance. The new training modules offered by Anajana Data are the following:
Advanced (functional path): Aimed at more advanced profiles within data management such as Data Office teams, architects, functional and technical stewards and data governance consultants who have to functionally define the configuration of the solution (governance model, metamodel and metadata attribute templates).
Configuration Administrator (technical path): Aimed at hybrid profiles (functional/technical) with knowledge of SQL, BPM management, identity management (IAM, AD, LDAP…) and YAML files. This certification enables the person who takes it to configure the solution according to the defined functional requirements. Although it is not necessary, it is recommended to have completed the Advanced level to be able to functionally understand all the configuration that is carried out in Anjana Data.
The functioning of the Anjana Data Official Certification is divided into two clearly differentiated areas: functional and technical. The first (functional) refers to Advanced and Expert levels of the certification, which are aimed at the practical use of the solution and the knowledge of all the configuration and adaptability capabilities. The second (technical) level encompasses two clearly differentiated paths between Administrator, which is divided into Configuration Administrator and Platform Administrator, and Developer.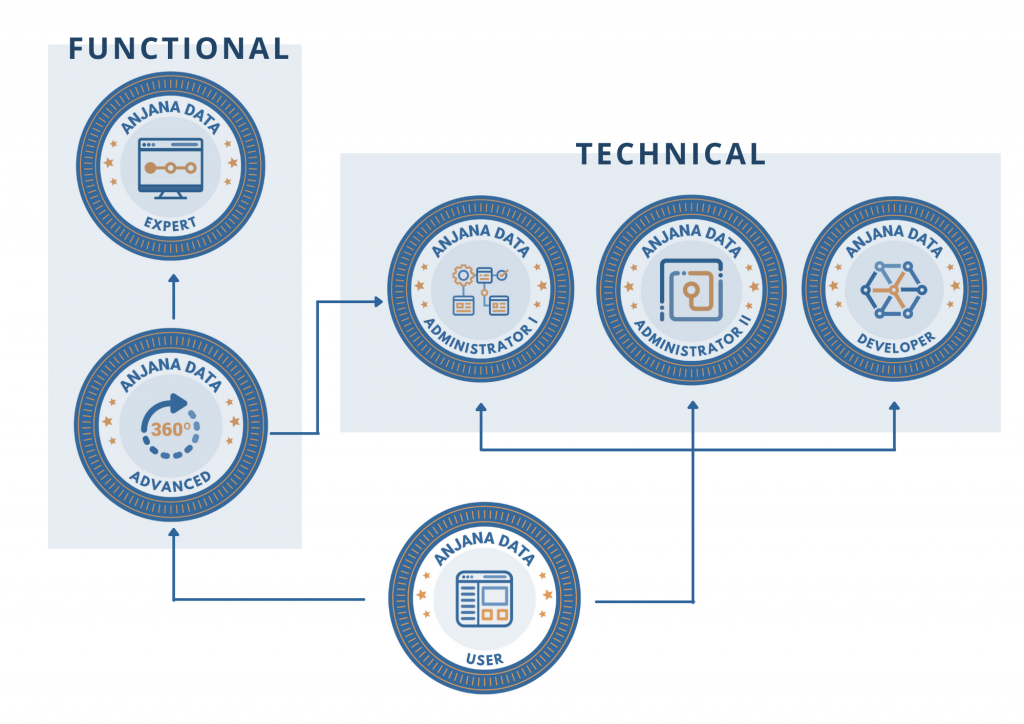 In order to gain access to any of these levels, the student must have previously completed the User level, and, preferably, the Advanced level of Anjana Data's Official Certification. Additionally, the levels of the certification are progressive according to the area of work that the student wishes to study and can also combine levels from both areas in order to have a more complete vision of the solution.
All certificates are valid for a certain period of time, have certain exam rules and a different pass percentage. Therefore, from Anjana Data we recommend reading the general information of each of the levels that is available on our website and in Formación Hadoop.
Anjana Data is the innovative and disruptive enterprise solution for Data Governance; designed to help organizations in the implementation of their data strategy. The training offered by the Anjana Data certification aims to enable the student to help the entity in its data-driven journey with a more general vision of what it means to implement a Data Governance programme in an organization thanks to Anjana Data.