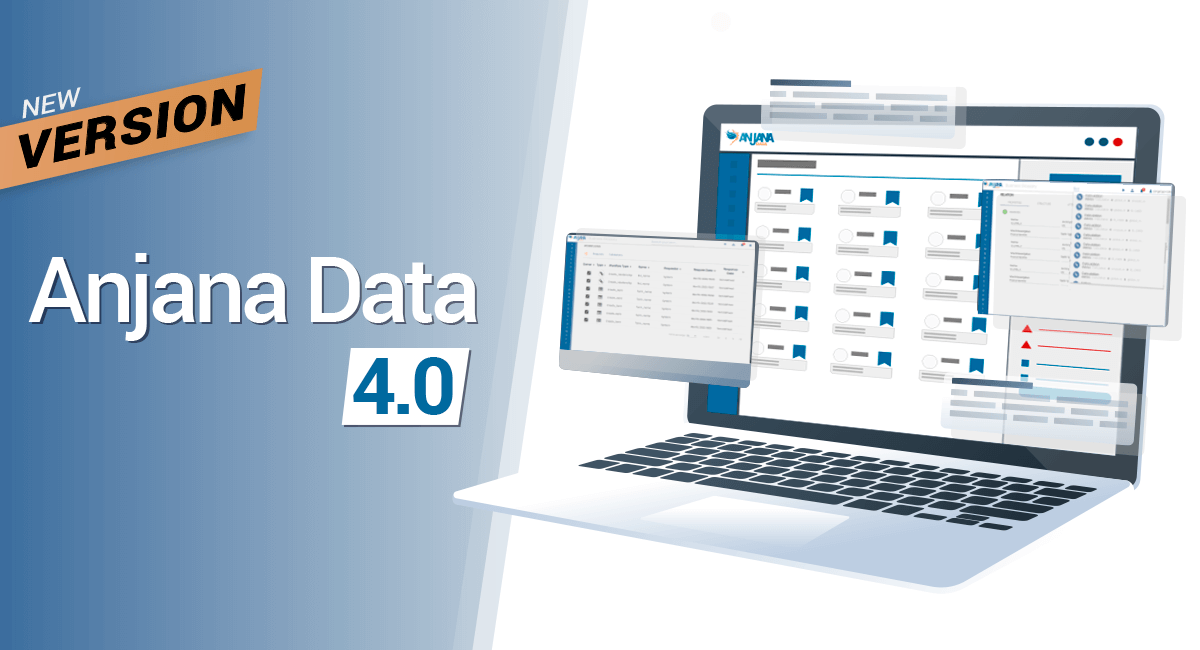 Anjana Data introduces its version 4.0
Anjana Data presents the new version of its Data Governance solution based on added-value features, which provides the necessary tools to empower data stakeholders in an organization, allowing the implementation of proactive and preventive data governance.
With the launch of Anjana Data 4.0, which includes important new features and improvements to the solution, the company aims to make a qualitative leap in its efforts to position Anjana Data as a real alternative to the leading solutions in the market, while continuing to improve its absolutely differential proposal for the most innovative data environments (Big Data and Cloud-native technologies, hybrid architectures, self-service and marketplace environments, advanced analytics ecosystems, data governance for DataOps, …).
Among the new features in version 4.0, Anjana Data includes a new internal metamodel that is much more complete and flexible, a unified best-in-class UX & UI for the whole application, a new graphic library based on an open-source 3D physics engine with extended vision of the data lineage and native integration with new technologies and data platforms.
In addition, with this latest milestone, Anjana Data becomes the first and unique Data Governance solution on the market that offers extended native integration over the most relevant technologies of the major cloud providers (Microsoft Azure, Amazon Web Services and Google Cloud Platform).
Anjana Data V4.0: Improvements and new capabilities
One of the most significant new features of this new version is the new CORE Metamodel that integrates both Business Glossary and Data Catalog metamodels which will give the organization full flexibility in creating new types of objects not only for the Business Glossary but also for the Data Catalog with their own attributes based on dynamic forms.
In this context, from a renewed administration and configuration panel, the teams responsible for data governance in the organization can create as many types of entities as they wish (business rules, metrics, reports, business processes, data quality rules, KPIs, policies, etc.), each with its own metadata attributes, in addition to being able to fully customize all the main assets of the Data Catalog (datasets, fields, processes, instances, DSAs and solutions).
In addition, thanks to the use of configurable relations, this new version offers the possibility of establishing different types of relations between data assets at any level, allowing users to relate, for example, metrics with datasets, quality rules with technical processes, reports with DSAs, etc, in a much easier and more intuitive way.
Additionally, the entire organization's data map can be visualized in a complete way through the new graphic library based on an open-source 3D physics engine, which also incorporates advanced features such as filtering, aggregation, search and location of nodes to facilitate navigation through the entire data ecosystem, discover relationships and consumption of information, analyze the lineage and traceability of a data and visually anticipate possible impacts.
On the other hand, the user experience for both the Business Glossary and the Data Catalog is another feature enhanced in this new version. Thus, the application has evolved towards a much more intuitive interface design, with new "actions" buttons and links to improve navigation between objects, views and modules. In this way, Anjana Data 4.0 provides easy navigation between different related data assets, offering a complete and simplified trip between the functional and technical worlds.
Mentioning the user experience, another improvement that highlights in this new version is the experience around the Data Portal and Marketplace because all its UX & UI has been redesigned in order to reduce the steps to search, find and request access to the available data assets.
In this way, Anjana Data 4.0 gives the possibility to include in the Shopping Cart not only the Datasets and DSAs, but also business terms and other conceptual data assets, bringing the data much closer to the business through the operationalization of Data Sharing Agreements. Thus, the application automatically calculates the different DSAs available so that a user can request access to the data assets included in the Shopping Cart, by signing the necessary data contracts so that the entire data access management process can be automated and governed.
This complete automation is only possible thanks to the extended native integration offered by Anjana Data over different data platforms with a focus on Big Data and Cloud-native technologies. In this new version, Anjana Data becomes the first and only data governance solution that natively incorporates extended integration over the most relevant technologies of the major Cloud providers (Microsoft Azure, Amazon Web Services and Google Cloud Platform). As in any other version, these integrations include:
Metadata discovery and importation.

Data sampling.

Active management of data access permissions through the integration with identity management systems and the implementation of data access policies.

Active management of data structures to be able to create, modify and delete different data structures such as tables, views, paths, files, topics, …

Obtaining dynamic lineage through the interpretation of audit logs.
Finally, another important evolution that Anjana Data's development team points out, are the back-end and architecture improvements, which allows the solution to continue with its frenetic rate of features evolution while offering last generation scalability, security and interoperability features to its clients.
All information on Anjana Data 4.0 is available on the company's website by downloading the
Release Notes – Anjana Data 4.0