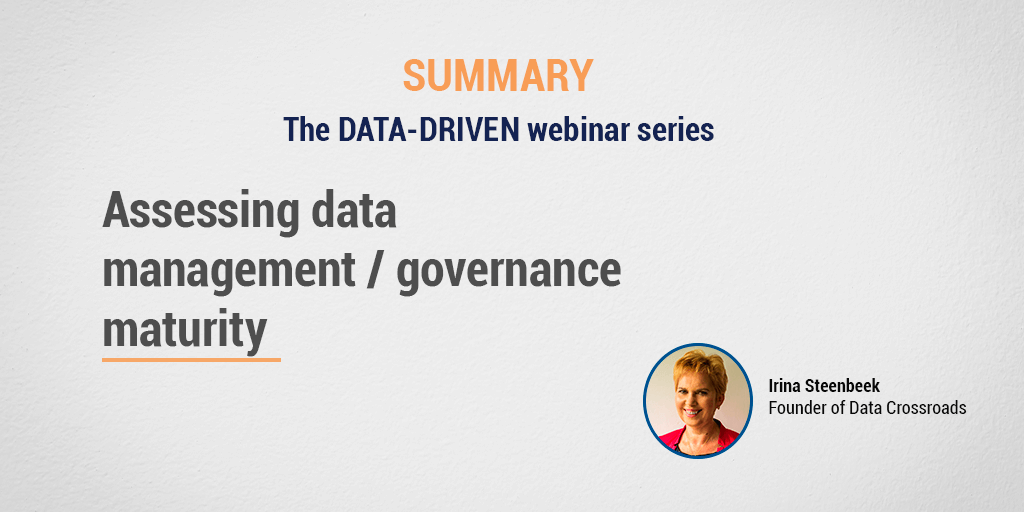 On June 17, the webinar "ASSESSING YOUR DATA MANAGEMENT MATURITY" was held where Irina Steenbeek, Founder of Data Crossroads, spoke about the data management/governance maturity.
In this webinar of "The DATA-DRIVEN webinar series" we covered the brief overview of the existing data management & governance maturity models, the description of a methodology to make a brief scan of the maturity in your company, and demonstrate the results of the global data management assessment review.
Here are some of the main points:
Maturity is a measurement of the ability of an organization to undertake continuous improvement in a particular discipline
Three questions about data management maturity

Why: Key reasons to perform  a data management maturity assessment

What: The definitions of maturity and data management/ governance

How: Challenges with existing models

There are two key reasons to perform a data management maturity assessment.

Define the steps to improve the performance of data management in your company

Benchmark the results against the peers in the industry.
If you want to know more about how Anjana Data can help you in your data strategy by changing the vision of data governance in your organization, request a demo.
You can watch the complete webinar ASSESSING YOUR DATA MANAGEMENT MATURITY video in our Youtube channel, where you will also find more videos related to Data Governance. You can subscribe to receive notifications of new videos.