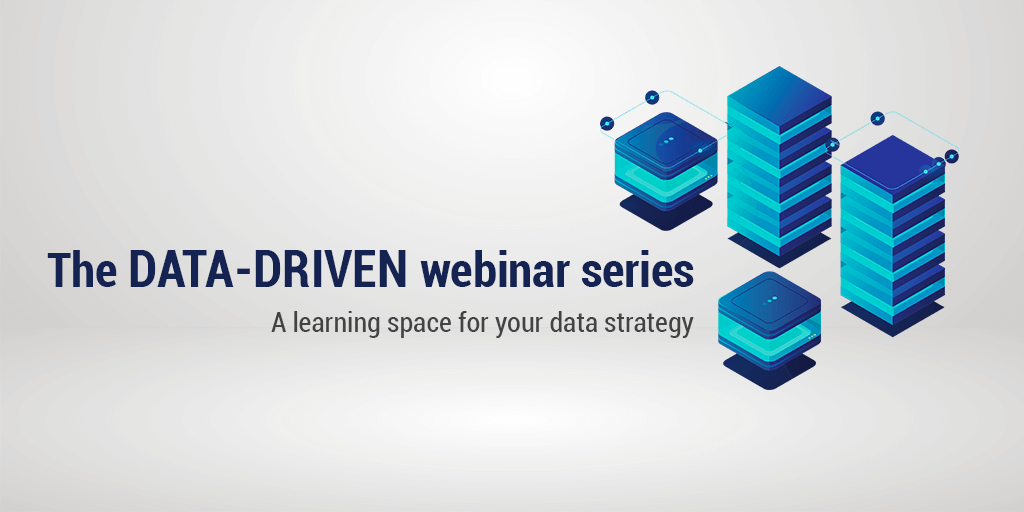 We know that DATA has become a strategic asset for the vast majority of organizations and that terms like data-driven have become fashionable among data managers. Moreover, the current technological scenario offers us all the necessary capabilities to bring DATA closer to the business than ever and generate added value thanks to its appropriate use. However, we still see many unresolved issues and a long road ahead that we want to help you travel.
For this reason, and following our philosophy of divulgating and sharing experiences and best practices for effective and efficient data management, at Anjana Data we have decided to launch a new initiative that we have decided to named as "The DATA-DRIVEN webinar series". It is about an idea that will consist in the broadcasting of a series of webinars of 30 minutes of duration, every two Wednesdays a month, at 18.00 (Spain time). The sessions will be in Spanish or English, depending on the speaker, the topic and the participants. and each one will cover a specific topic.
These webinars will be a totally free and open space where we will talk about the challenges that organizations have to face to become Data-Driven. We will share our approach and vision about data governance and management and we will go deeper into key aspects for the implementation of your data strategy.
All this, in addition, with the collaboration of special guests who will share with us their experience and knowledge on particular topics.
¿How to attend "The DATA-DRIVEN webinar series"?
"The DATA-DRIVEN webinar series" will be held for the first time with the webinar: "Retos actuales del Gobierno del dato para convertirse en data-driven". In this first webinar in Spanish we want to share some of the challenges that an organization has to face to become data-driven in the current paradigm and give some keys of how it can face them with guarantees according to our vision and approach.
This first webinar will mark the beginning of the agenda of "The DATA-DRIVEN webinar series", an initiative with which Anjana Data also seeks to increase the knowledge of the attendees regarding Data Governance, with special emphasis on good practices related to data-driven strategies and the experiences shared by our guests.
Check out the upcoming webinars on our Events page.