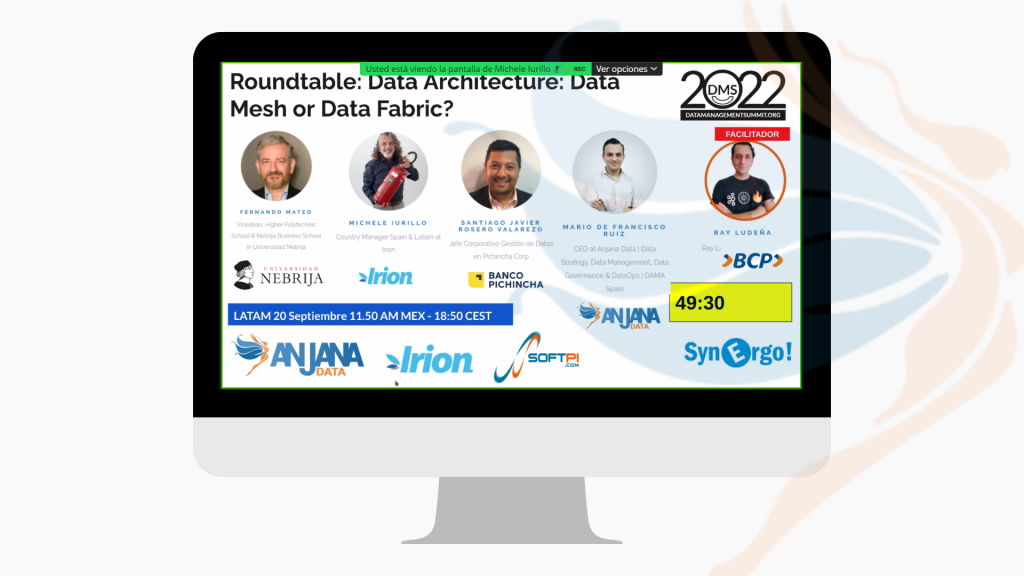 Yesterday, 20 September 2022, the first edition of the Data Management Summit in LATAM was held, a meeting aimed at CIOs, CTOs, CDOs, Chief Data Officers and all types of professionals and experts in the Data Community. Anjana Data was a Gold Sponsor of the event, and contributed all its experience through a success story and its participation in one of the most important round tables of the meeting.
Anjana Data sponsored the speech of Eduard Gil Carbo, CDO of Hospital de la Santa Creu i Sant Pau, in which he highlighted the problems and challenges faced by an organization when implementing a Data Governance model; talking more about processes and people than about technology. Among the challenges for change management, the CDO highlighted the resolution and definition of terms through a Business Glossary, the involvement of the entire organisation, the contribution of value to the information recorded in the systems generated on a daily basis and the lack of resources and data management in the organization, among others. Thanks to the implementation of Anjana Data, the Hospital de Sant Pau has been able to tackle all these problems, focusing on the importance of data quality.
Mario de Francisco Ruiz, CEO of Anjana Data, participated in the round table 'Data Mesh vs Data Fabric' together with Fernando Mateo, Vicdecano, Escuela Politécnica Superior y Escuela de Negocios Nebrija de la Universidad Nebrija; Michele Iurillo, Country Manager Spain & Latam at Irion; Santiago Javier Rosero Valarezo, Corporate Head of Data Management at Pichincha Corp; and Ray Ludeña, Head of Data Architecture at Banco BCP, as moderator.
During the conversation, the CEO of Anjana Data emphasised that "Data Mesh is not a technical or technological issue, but rather a much more organizational and architectural issue, but of data, not IT architecture". He went on to say that "data architecture, as DAMA tells us, is between business architecture and application architecture, it is what translates these business needs into data implementations, which are then technical software implementations".
Mario de Francisco concluded that "Data Mesh is a vision that data can serve many purposes, not just one use case. When to implement this depends a lot on the maturity point of the company". In addition, his last intervention at the table was to highlight the importance of organizations focusing on people and processes, before going to that last step which is technology.
Anjana Data will also be Gold Sponsor at the third Spanish edition of the DMS, which will be held on 19 and 20 October 2022. For this event, registrations are already available, and in the coming days we will announce the agenda along with all the details of the meeting that will be held in a hybrid form in Madrid and online.