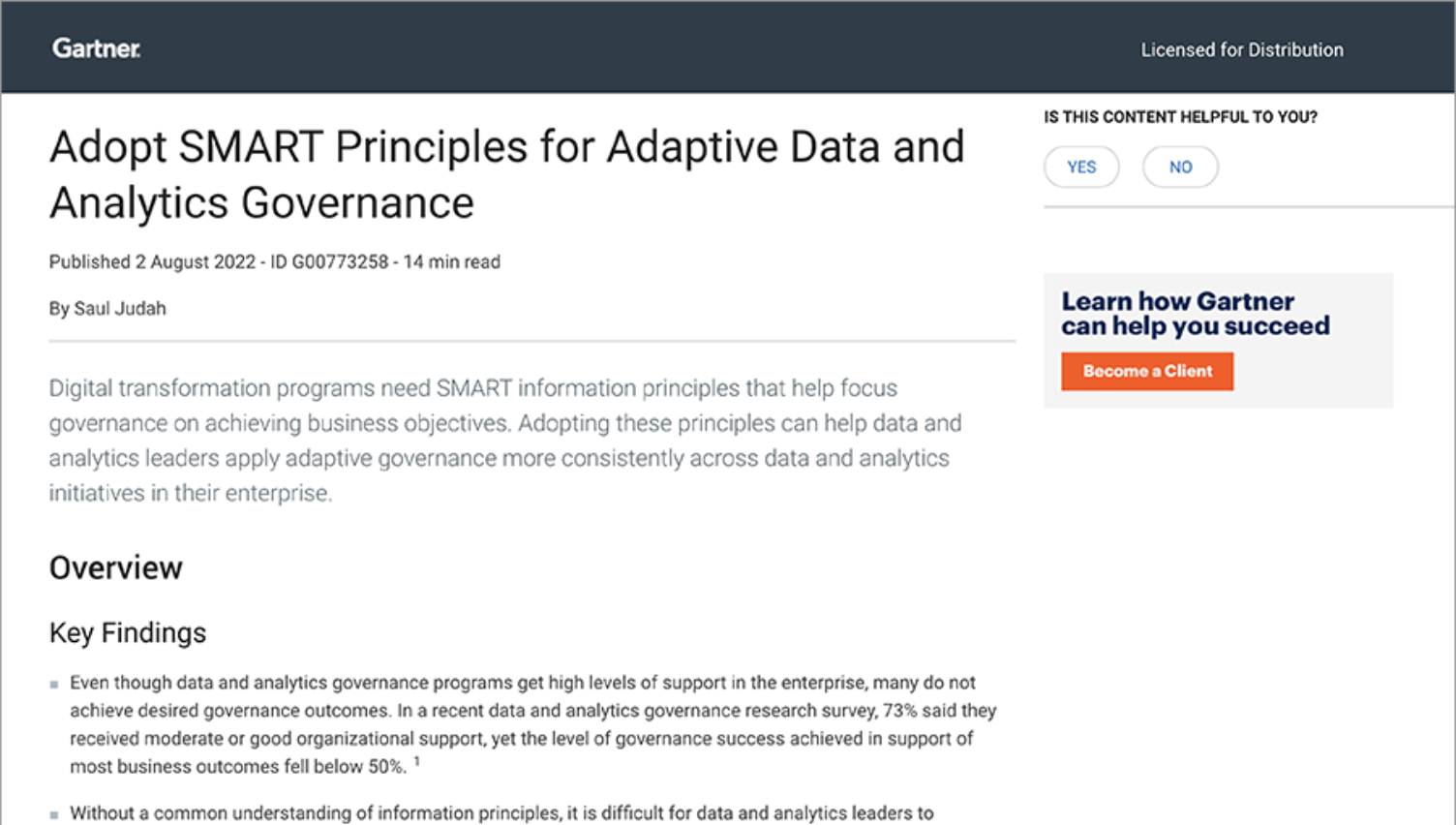 The vast majority of companies joining efforts to become Data-Driven are aware of the failures that are often triggered by monolithic and inflexible Data Governance initiatives. The 'one-size-fits-all' approach to Data and Analytics Governance that is often used isn't what is suitable to meet the challenges facing the market today. Anjana Data was developed as the ultimate platform for fully adaptive implementation of Data and Analytics Governance to succeed in the digital age, regardless of functional and technical architecture.
For this reason, Anjana Data was chosen by Gartner in the Market Guide for Data & Analytics Governance Platforms as one of the most outstanding technology platforms in the market for Data and Analytics Governance, not only for its vision, architecture and pricing, but also for its flexibility and adaptability.
Gartner's Adopt SMART Principles for Adaptive Data and Analytics Governance document highlights the importance of using flexible and configurable Data and Analytics Governance tools such as Anjana Data; highlighting the forward-looking needs of organizations versus the market in terms of data governance.
For organizations to achieve their business objectives and drive governance change in an adaptive and consistent manner across their Data and Analytics Governance initiatives, SMART (Specific, Measurable, Actionable, Realistic and Timely) reporting principles should be adopted as a key tool. SMART Principles are universal within a single organization, and put the focus on achieving corporate objectives effectively.
Discover in the following document all the keys of the SMART method to achieve an adaptive Data and Analytics Governance.