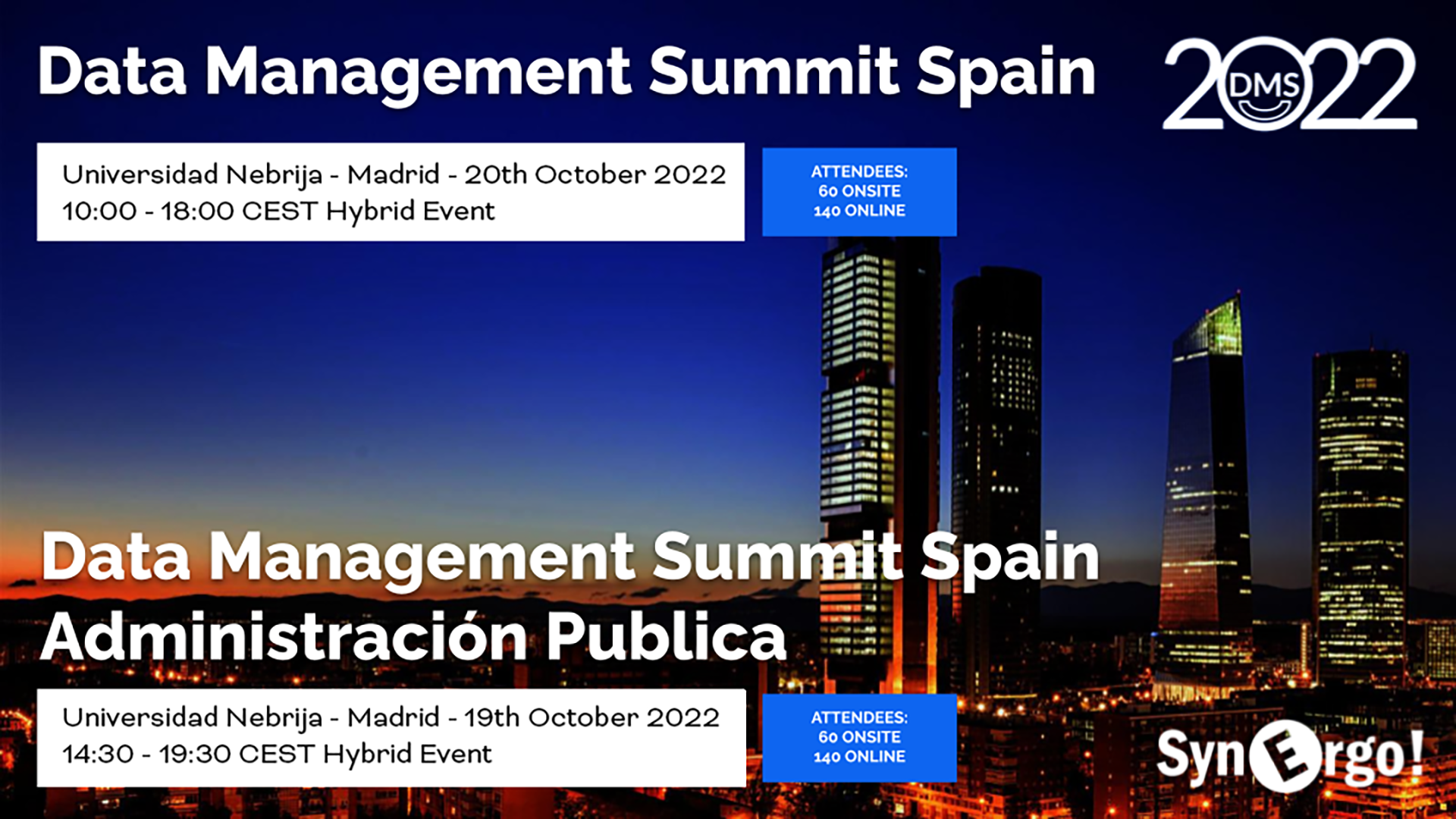 Anjana Data participates as Gold Sponsor one more year in the Spanish edition of the Data Management Summit, a meeting aimed at CIOs, CTOs, CDOs, Chief Data Officers and all types of professionals and experts of the Data Community who seek to implement emerging technologies and innovative methodologies to solve current technological challenges in order to achieve new business opportunities.
As a new feature this year, the Spanish edition of the DMS will be held on two days, October 19 and 20, 2022. The first session, October 19, will be aimed at Public Administrations; and the second, October 20, will be the usual session that has been held for three consecutive years.
Mario de Francisco Ruíz, CEO of Anjana Data, will be one of the protagonists of the Spanish edition of the DMS and will participate in the round table Challenges and barriers for data exchange in the public sector on October 19 at 18:00 CEST. In addition, some of the Anjana Data team members will also participate in the session on October 20. Lucía Engo, Head of Customers Success at Anjana Data, will moderate the round table discussion How to converge the different data quality models? to be held at 13:15 CEST; and José Carlos Rodríguez Mendizábal, Customer & Partners Success Manager at Anjana Data, will be one of the participants of the round table discussion Data architecture: data mesh or data fabric? to be held at 15:45 CEST.
Additionally, Anjana Data will sponsor a slot at 15:05 hours CEST; where Francisco Machín Aragonés, CDO of Instituto de Empresa, will present his data governance and management success story.
In 2022, Anjana Data has celebrated its third anniversary with some milestones such as being named in the Gartner Market Guide for Data & Analytics Governance Platforms as one of the most outstanding Data Governance and Analytics platforms in the market. In addition, it has also continued to evolve and grow in the market, working with clients from different sectors and countries, and with different degrees of maturity. Anjana Data is consolidated as a platform for Data Governance and Analytics differential in terms of vision, architecture and pricing; in addition to its two fundamental principles with customers and partners, proximity and transparency. Once again, Anjana Data will bring to the DMS all its knowledge in data management and governance from the hand of its professionals and through success stories.
Anjana Data will be one of the driving forces behind the DMS as Gold Sponsor for the third consecutive year, supporting an initiative that focuses on innovative solutions and platforms, creating an open forum to share experiences and use cases among industry professionals in a completely open and collaborative way.
Registrations for the different events are free of charge and are made using the following form. The application is then reviewed by the organizing committee and is either approved or rejected.