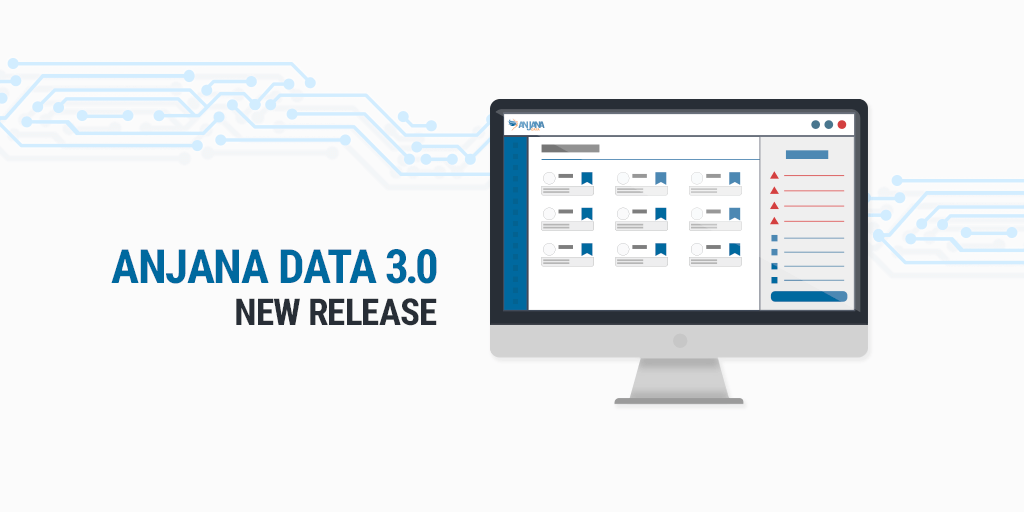 Anjana Data releases a new version, 3.0, which includes a new generation Business Glossary, flexible and customizable, fully integrated over Data Catalog and an evolved CORE metamodel. It also incorporates new workflow management mechanisms, dashboarding and reporting tools, AI & ML-based assistance pills and technical improvements within its whole microservices architecture.
Anjana Data is a unique and differential Data Governance solution, based on cutting-edge and consolidated open-source technologies, designed to help organizations in their data strategy roadmap implementation in the Big Data, Multi-Cloud and Data-Driven era.
Its release 3.0, which will be available from the second week of April, brings an update of improvements and additional features such as the integration of a fully flexible and customizable next generation Business Glossary integrated over Anjana Data Catalog to help build a common language and a single semantic layer across the whole organization.
The solution also integrates a new built-in BPM for validation workflows based on Activiti, giving the possibility of improving management, performance and capabilities in the automation of procedures and data governance processes.
In addition, this version 3.0 of Anjana Data includes the integration of self-service dashboarding and reporting tools that ease data governance implementation control and follow-up by the integration of open-source solutions Grafana and Hue in the technology stack.
With this launch, Anjana Data intends to continue with the unstoppable growth of the first quarter of the year, "We are very happy not only for the welcome that our vision is having in the market but also for the performance of the team which is making it possible for that vision to be materialized in the solution release after release. The feedback we are receiving from our clients is very positive and it inspires us to continue in this line", said Mario de Francisco, CEO of Anjana Data.
Ana Melcón, Head of Product & Development, also quotes: "In Anjana Data, we are a multidisciplinary team working side by side with our customers and we are constantly setting ourselves new challenges and goals. That fact forces us to move on and keep adding new features to foster the solution coverage in order to maintain the level of innovation that the market needs".
Next-Generation Business Glossary
Anjana Data's Business Glossary is based on three main objects: containers, terms and relations; each one with their own flexible and customizable attributes based on dynamic generation of templates and forms. The flexibility of this design gives organizations the ability to model their semantic reality, easily managing ontologies, taxonomies and exceptions, providing a pure business vision.
This Business Glossary will be fully in-sync automatically and assisted with CORE metamodel to offer users the possibility to seamlessly perform a complete trip over data both top-down and bottom-up. With this feature in place, it will be possible to easily move from the business vision to the technical point of view and vice versa from any place in the solution by combining both worlds.
Other new features included in Anjana Data's Business Glossary are:
Advanced search engine and terms dictionary to easily find what you are looking for.

Flexible roles-based governance model for terms and relations management and maintenance along with customizable validation workflows.

Pre-defined controls to guarantee uniqueness, consistency and integrity of business terms.

Data assets crowdsourcing in order to create actionable knowledge based on governed data.

Alerts & notifications module is integrated in order to enhance stakeholders collaboration and interaction under an advanced UI & UX.

Incorporation of user assistance capabilities and support for manual tasks based on advanced analytic algorithms, Artificial Intelligence and Machine Learning for a better user experience.
New built-in BPM for validation workflows 
Processes management becomes faster and more intuitive with Anjana Data and the integration of Activiti, an open-source workflow engine written in Java that can execute business processes described in BPMN 2.0. This integration improves the management, performance, and capabilities of approval workflows.
This version also includes basic features that cover the same capabilities included in Anjana Data v2.0 but extended to the new Business Glossary module. The incorporation of Activiti into the technology stack gives Anjana Data the possibility to easily offer extended features about validation workflows in the near future along with a new experience for workflows design, customization and management.
Additional new features in release 3.0 of Anjana Data include:
Dashboarding and reporting
An important added value in this release 3.0 of Anjana Data is the integration of the self-service dashboarding and reporting tools, Grafana and Hue, which facilitate the control and monitoring of the implementation of the Data Governance model in the Organization, from Anjana Data.
Grafana allows the user to query, visualize, alert and expose graphically the activity within Anjana Data in a simple and attractive way even in real time, being specially indicated to represent information in timelines. On the other hand, Hue, brings the best metadata (hosted in Anjana Data) querying experience in a quick and easy way with the most intelligent autocomplete capabilities, query sharing, charts, dashboards and downloading tools. All this without programming because the analysis is done dynamically by clicks & drag & drops.
These tools included in this new reporting and dashboarding module give solution users the possibility to easily create and share their own dashboards and reports from stored data in Anjana Data's internal repositories.
Data Catalog and Data Lineage
Besides the above improvements, the new release of Anjana Data extends its CORE metamodel with additional metadata to provide greater context and insight into the data while making their governance easier. As an important improvement, taxonomies and custom metadata now may be added at field level.
In relation to data lineage features, the possibility of adding detailed functions at field-level when declaring or importing processes and instances into the metamodel is included. In this way, the option to drill-down from the object level to the field level is allowed to have a granular view of the data movement. In addition, in the extended data lineage visualization, the information regarding the users adhered to the DSAs has been widen too (Name, Role, Business Unit, …).
Back-end improvements
Finally, various improvements at the technical level have also been included to further ensure the scalability, interoperability and easy-of-use of the solution:
Public API 3.0 with extended features and improved capabilities and administrative API 1.5 totally independent from the Public API for administration purposes.

New Oauth based authentication that enables seamless integration with a multitude of identity management systems.

Code refactoring for performance enhancement and software quality improvement:
Roles and privileges management

Dynamic indexing of objects within Data Portal

Management of the execution steps within approval workflows
---
To request a demo of the Anjana Data solution click here.
Additional resources: 
For more information about Anjana Data, download our brochure.
About Anjana Data: 
Anjana Data was founded in Madrid in 2019, as a product-oriented company to develop, support and market its own innovative and disruptive data governance solution. Anjana Data is not just a Data Governance Tool, it is the implementation of a philosophy as a result of an extensive experience in data related projects.