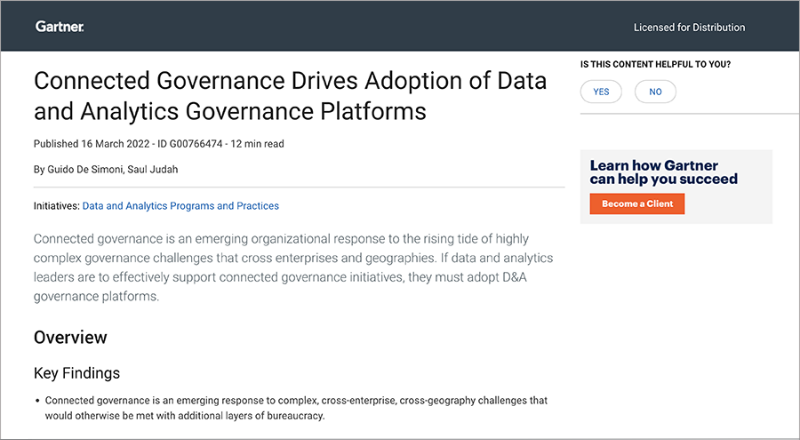 Organizations are exploring a new approach called 'connected governance', which aims to improve bottom-line performance, business efficiency and the sustainability of investments over time. Gartner defines 'connected governance' as a framework for establishing a virtual governance layer across organizations and business functions, spanning one or more business areas.
However, for connected governance to be successful, the network of agencies and organizations involved must work with reliable data to help make the right decisions for the entity. Business performance is enhanced when governance activities are coordinated effectively, efficiently and effectively across different departments, areas and stakeholders.
In this context, if organizations work on 'connected governance' by leveraging the capabilities of Data Governance and Analytics Platforms, they can derive multiple benefits from improved decision making through data quality and coordination of responsibilities in the organization's ecosystem.
Within this paradigm, Anjana Data was included in Gartner's Market Guide as one of the most innovative Data Governance & Analytics Platforms in the market for the implementation of flexible connected governance because of its fully scalable and configurable approach, which completely adapts to the definition of connected governance. As Gartner says, connected government is the cooperation and coordination between data security, privacy, quality and analytics, which can be achieved through the use of a technology platform such as Anjana Data.
Discover the document GARTNER®CONNECTED GOVERNANCE DRIVES THE ADOPTION OF DATA GOVERNANCE AND ANALYSIS PLATFORMS