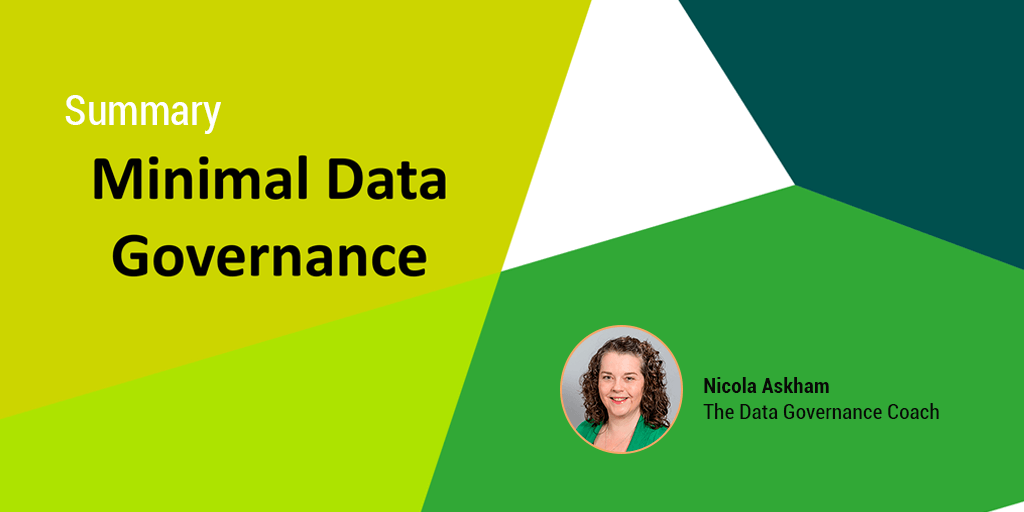 On June 10, the webinar "Minimal Data Governance: is it effective and how to do it?" was held where Nicola Askham The Data Governance Coach, spoke about the implementation of data governance with little or no investment.
In this webinar of "The DATA-DRIVEN webinar series" we found out whether Data Governance on a shoe string can be effective and how to go about it. Here are some of the main points:
To talk about

minimal data governance

, we must be clear about these concepts:

Shoestring:

A small or inadequate budget

Data Governance on a shoestring:

A minimum approach to proactively managing data quality

Minimal Data Governance:

A minimum approach to proactively managing data quality

What does that mean?

Just enough to say we're doing it?

Enough to keep the regulator off our back?

Something that isn't going to take much effort? 

Minimal Data Governance has to deliver real value to the organisation or there is no point in doing it. Benefits:

Improve efficiency – reduced costs

Accurate reporting – supporting decisions

Facilitate compliance

Protect reputation with customers and

suppliers

Enable strategy

Provide a single version of the truth

Enables safe innovation at pace

Design Your Framework

Select Your Deliverables

Can Minimal Data Governance Be Effective? Just Remember

Very focussed scope 

Do it properly 

Plan for the future
Nicola Askham also shared a Free Data Governance Checklist that gives you a high-level outline of the activities you need to complete in order to successfully design and implement a Data Governance Framework.
If you want to know more about how Anjana Data can help you in your data strategy by changing the vision of data governance in your organization, request a demo.
You can watch the complete webinar Minimal Data Governance: Is it effective and how to do it? video in our Youtube channel, where you will also find more videos related to Data Governance. You can subscribe to receive notifications of new videos.