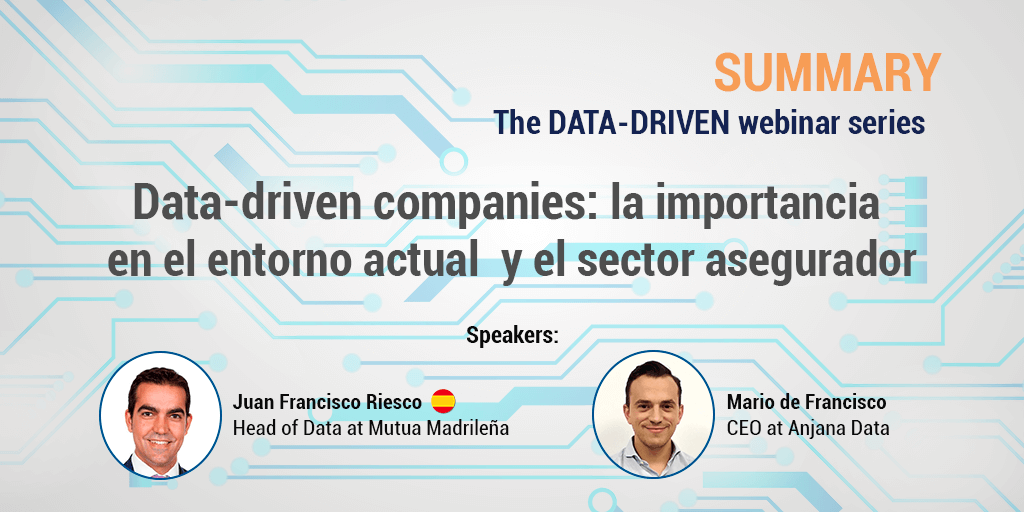 The sector of activity and the motivation of the company determine the impulse, scope, and focus of the data-driven transformation
The Data-driven companies webinar: the importance in the current environment and the insurance sector of the "The DATA-DRIVEN webinar series" was held on Wednesday 3 June where Mario de Francisco, Anjana Data's CEO, as presenter of the event spoke with Juan Francisco Riesco, Head of Data at Mutua Madrileña about how the demands of the current environment make being a data-driven company a necessity and having degrees of freedom beyond regulatory requirements is key to demonstrating that it is a business issue.
Why do we talk so much about data-driven companies?
According to a study by management consulting firm Mckinsey & Company, data-driven companies with intensive data & analytics users are:
23 times  more likely to outpeform competitors in acquiring new users.

19 times more likely to achieve above-average profitability

15 times more likely to deliver better value to their customers.
Data Wrapping
A company's products are "wrapped" in data analytics features and experiences  that help and delight customers, with profitable results
But what is being a data-driven company?
Data-driven companies: data-driven areas + Strategy + Innovation
Data-driven areas: People & Processes data-driven + Culture
Data-driven processes: Data + Tools + People data-driven
Data-driven people: Data + Tools + Knowledge + Use
In data-driven companies, we need all people in the company to use data and leverage the data for the performance of their day-to-day tasks. We need to have data scientists with knowledge in statistics, programming and business, to gain advanced analytical models for the company. We don't need everyone in the company to be a data scientist.
Being data-driven means change in: Organization, Technology, Processes and Culture.
Regulation: imposition setting the objectives and the regulatory pace
Market: following trends but with limited or diffuse objectives
Business: purpose aligned with company strategy
How does it translate into the company's activity?
Business improvements:
Increased satisfaction and sales
Process and cost optimization
New business models
Increased synergies in partnerships
Operational improvements:
Better knowledge of what happened
Anomaly alert
Predictive suggestions on actions to be taken
Task automation
Is it necessary in the current context of insurance companies?
More data available: Open data and Connectivity
More accessible capabilities: Advanced analytics and New technologies.
More complex environments: More competitive market and more demanding customers.

Insurance sector from the point of view of data
Challenges and Opportunities from the point of view of data for the insurance sector regarding the following points:
Complex business.
Risks and regulation.
Technological Ecosystems.
Little digitization.
If you want to know more about how Anjana Data can help you in your data strategy by changing the vision of data governance in your organization, request a demo.
You can watch the complete webinar Data-Driven companies: la importancia en el entorno actual y el sector asegurador video in our Youtube channel, where you will also find more videos related to Data Governance. You can subscribe to receive notifications of new videos.
>>> Next webinar: Minimal Data Governance – is it effective and how to do it?